Teeth Whitening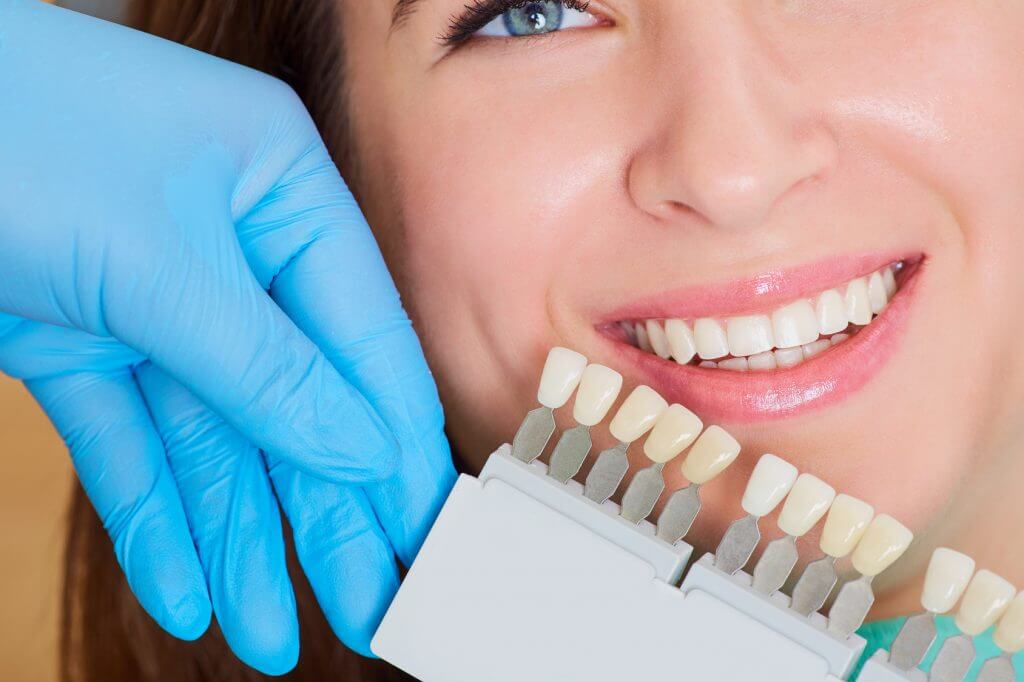 What is teeth whitening?
Teeth whitening is a safe and effective procedure of whitening your teeth. The process involves the use of a mild solution, placed in a custom-fitted tray, that is worn over your teeth. No natural tooth structure is lost and no anesthetic is required.
It is considered a conservative method of lightening teeth.
Is teeth whitening for me?
If you are not pleased with the color of your teeth, then you may be a good candidate for the teeth whitening procedure. The coloration of teeth has always been an important feature of our smile. However, not every candidate gets same results. Before the procedure is done it is reccomended to discuss with your dental professional and understand the final result may or may not meet your innitial expectations.
A number of factors can contribute to tooth discoloration. Tooth color is largely a matter of inherited tendencies. Some of us are born with the tendency for lighter (or darker) teeth.
External and Internal causes…
INTERNAL:
Tetracycline (antibiotic) discoloration – the use of the powerful antibiotic,tetracycline for young children can cause permanent staining of teeth.
Excessive Fluoride Staining – is the result of ingesting large amounts of fluoride during the development of teeth.
Natural aging process
Pulp (nerve) degeneration
EXTERNAL:
Trauma (injury) to the teeth
Uses of substances that can stain tooth enamel such as all types of tobacco products, coffee, cola's, and tea.
What are my options for teeth whitening ?
Generally, there are two different types of tooth-whitening systems. Active or "In Office Whitening", which takes place in the dental office, and passive or "Home Take Whitening".
Regardless of which type of system is best for you, it is important to follow your dentist's professional recommendations.
Your dentist will offer you the best and safest treatment available.
You should know:
Teeth whitening is not a permanent solution to changing the shade of one's teeth.
To maintain the desired shade your teeth may require periodic touch-ups. This requires you to wear your appliance/ custom-fitted tray with whitening solution for a few days a week. The touch-up intervals will depend on individual patient's situation.
Some patient's teeth exhibit a chalky appearance for a short time due to a slight dehydration caused by the tooth-whitening solution.
Occasionally patients experience mild sensitivity to cold food and beverages for a day or two following the procedure.
Our office offers both whitening options for our patients
ZOOM! In Office Whitening
In Office Professional Teeth Whitening, ZOOM! is a "light-activated" chairside whitening procedure and a perfect solution for patients who desire immediate results. Clinical studies have proved this technology can brighten your teeth an average of eight shades in one visit. The procedure often takes average 90 minutes to complete.
Take-Home Whitening
"Take-Home" whitening process involves the fabrication of a custom fit bleaching tray made specifically to fit the patient's mouth. A small amount of whitening solution is placed in the tray. When the tray is placed in the mouth the solution comes in contact with the teeth and causes oxidization of the stains, the result being brighter and whiter teeth.
This appliance will be worn for a period of days or weeks as needed case by case. In many cases, night-time application alone is sufficient to achieve the results you desire. You will need to return to your dental office periodically. These appointments ensure that the whitening system is working effectively, and your teeth and gums remain healthy.